Arby's franchisee: 'I've got some success stories that are just ridiculous'
John Wade is remodeling and building Arby's restaurants at an aggressive pace because he is so excited about his results and the brand's direction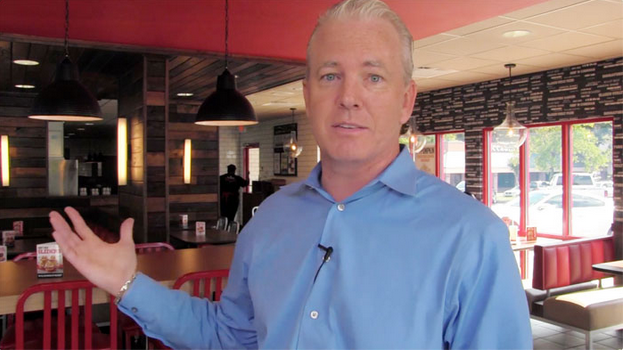 John Wade has been with Arby's for more than two decades and became an Arby's franchisee in 2004. Since then, he has grown from six restaurants to more than 20 in Indiana and northern Georgia. He plans to aggressively expand into new markets.
Why is he so bullish about the Brand? We asked him to share his story.
Why did you decide to make restaurants your career? What made Arby's stand out?
Well, I think most people don't realize the opportunity that there is in restaurants, specifically fast food restaurants. If you're a hard-charging, fire-in-the-belly kind of person, you can make a great successful life for yourself and your family by working hard in the restaurant industry.
I started in a franchise that was involved with fried chicken. We literally cut our own chickens. It was just more difficult and dirtier, frankly — much more greasy, lots more fryers, flour everywhere. It was just a difficult business compared to Arby's, which is really so much cleaner and easier.
How did you become an Arby's franchisee?
I started with Arby's in the early '90s and worked for RTM, which was the largest Arby's franchisee and one of the biggest multi-unit operators in the world. I worked my way up and became a partner. When RTM sold its restaurants to Arby's (the deal closed in 2005), I decided it was time to grow my own company, so I traded my partnership in RTM for my own license agreement and my own restaurants. I started with six, and today we have 21.
What has driven your growth?
Well, there were a lot of smaller franchisees that during the recession were looking for a way out — frankly, as a lot of small businesses were at the time. I looked at it as a buying opportunity and an opportunity to grow my company.
When I was still buying restaurants and growing through the recession, I looked at Arby's as an iconic brand that was just being held back. When Roark Capital bought Arby's (in 2011), I felt like there was something really special about to happen. … The world has completely changed in the last few years. Now, everyone is started to realize that Arby's has this untapped potential that is just beginning to come out. People are really starting to take note.
How has Arby's changed?
First, with Paul (Brown, who joined Arby's as CEO in 2013). Before he even started on Day 1, he was contacting franchisees and just asking open-ended questions, getting to know the Brand. He has continued to do that his entire tenure. He's not only an owner — obviously he's got a vested interest — but he also understands that his success is tied to franchisees being successful.
When it comes to Rob (Lynch, who joined Arby's as Brand President and Chief Marketing Officer in 2013), you bring in this completely younger way of doing things. He has really opened our social media up. He's also driven our marketing forward, saying, "Hey, data wins, not my personality or my attitude." He looks for the specific things that are going to drive the guests to Arby's restaurants. He's getting us tapping into younger guests, where previous CMOs never even really cared about younger guests. He understands we've got to get in there.
The product pipeline that Chef Neville (Craw) and Rob have unleashed is amazing. We used to be a Brand that was only thinking three to six months out on our promotions but now we're talking about 18 months into the future.
What do you like about owning the business?
Arby's is a very tight-knit community. I can communicate with the CEO and the CMO any time I want. You don't find that at a lot of brands. The franchisees work very, very well together. Then the Brand itself works very well with franchisees. There are a lot of brands and a lot of companies out there where the franchisee and the franchisor don't get along, but Arby's is not like that at all.
Arby's has attracted a lot of buzz thanks to bold marketing. The Brand even put an ad on The Daily Show with Jon Stewart that compiled the comedian's Arby's insults to wish him a friendly farewell when he retired from the show. That takes a lot of confidence.
We realize we can have a company and have it be fun. We have a strong brand, and we can make fun of ourselves. It's okay. We don't mind. In doing so, we're connecting with younger and more diverse guests. Our confidence level in Rob has been so high that we understand that we're going to try some things that might make us uncomfortable from time to time and we might miss from time to time. If you look at the Brand since Rob took over our marketing, we've had very few misses and we've had a whole lot of home runs.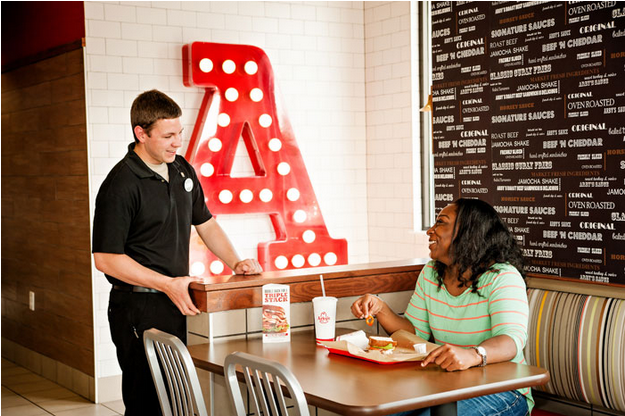 Knowing what you know now, if you were starting out, would you still become an Arby's franchisee?
In a heartbeat. The reason I say that is the potential at this Brand has never been greater than it is today. That's big when you stop and realize I've been in the Brand for over 20 years and I'm saying that today I am more excited than I have ever been.
What drives your excitement?
It's the product pipeline, it's the Brand leadership, and it's the willingness to work with franchisees. Those three things in any given brand can really make it successful. You've got those three things on steroids right now at Arby's.
Does Arby's have some areas of genius that help it stand out?
Our product quality and our innovation. We have brought so many different product lines to market. Our Market Fresh® sandwiches became iconic almost overnight. Customers just really understood it and loved it. We also make smart partnerships, like with King's Hawaiian® Bread.
Our product quality and our menus are different than everybody else. We are different and that's good. I think when you tie that in with our new marketing strategy, connecting to younger guests, and then our new buildings that are connecting with younger people, that tells you what our future is going to be like.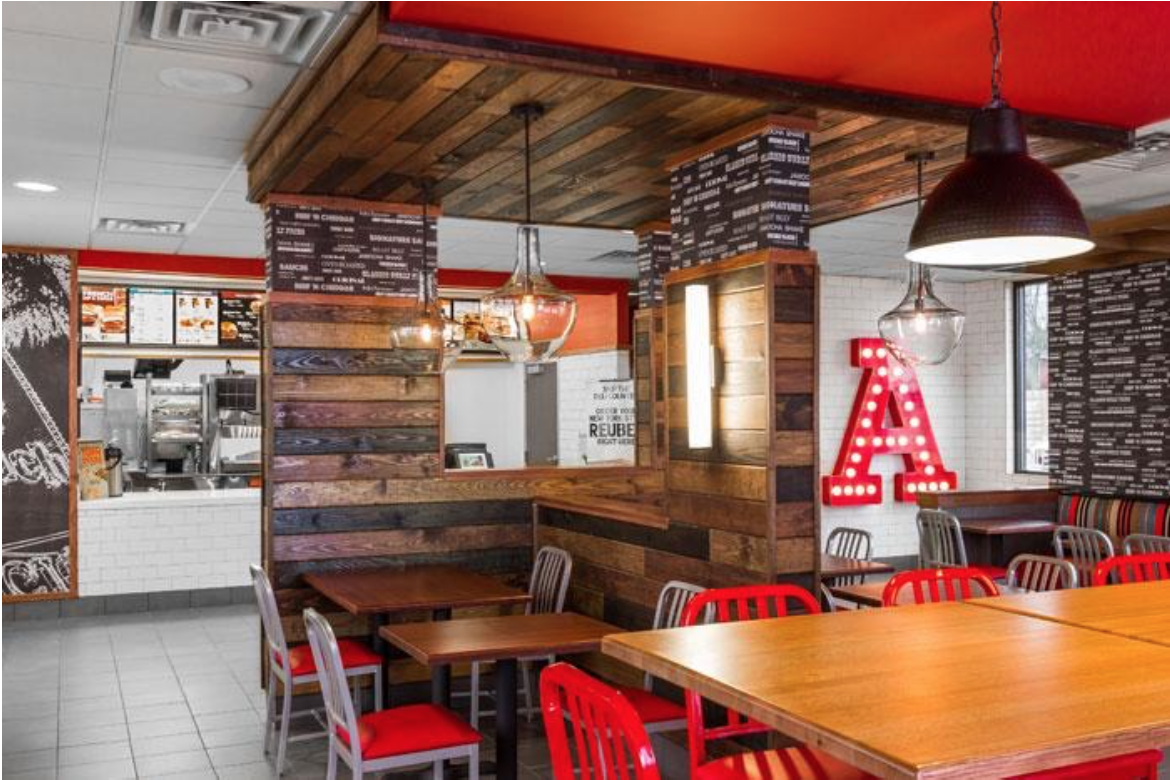 How do you like the new restaurant design? How has remodeling impacted your sales?
We're remodeling restaurants at a pace of one a month. For a little company with only 21 restaurants, we're pretty aggressive. It's hard not to be aggressive when we look at the results that we're getting out of them. It's been amazing.
The vast majority of the 10 remodels we have done have produced three times what would be considered a standard increase for a remodel. They've been amazing. I've got some success stories that are just ridiculous — you wouldn't believe it if you weren't seeing the numbers.
What feedback have you heard about the new design?
Everyone loves it. I have not had a single negative comment. I have people going, "Wow, this is amazing. This is Arby's?" I've had lots of comments like that. It just makes you feel great when you're spending that kind of money to get that kind of results out of your guests. I think people are coming to the restaurant and enjoying the dining experience.
Arby's provides a revitalization roadmap to help franchisees manage the remodeling process. Has that been a useful tool for you?
When we started doing these 10 remodels, we really didn't know where to begin. That roadmap is exactly what we used to begin the process. We've just continued to cookie-cutter from that roadmap over and over again as we've done these 10 remodels. My company's director of operations, Jay Bedrosian, has made it look easy. Jay is one of those people who make a big difference every day.
What parts of the roadmap have been most beneficial?
Well, for one, whenever you're doing a project like that, it's financing. The fact that Arby's has engaged a financial institution that is willing to work with franchisees to do these deals, that's amazing. They brought Element Financial to the table. They have gone out and have used their financial sheet to make Element Financial feel better about the Arby's brand and loaning to Arby's franchisees. I've never heard of a brand bringing a financial institution to the table like that.
Then, they have all the approved vendors out there for us to use, even architects. When you call the architect, they've already been certified by Arby's and you know that they know exactly what they're doing to build an Arby's restaurant. It makes it a whole lot easier. Every vendor down the line is just like that, whether it's the lighting guy or whether it's the stainless guy or whether it's the equipment companies. They've all been approved by Arby's. They know exactly what they're doing; you're dealing with nothing but experts. It makes it much easier for you as a franchisee.
Are you looking to open brand new Arby's restaurants? How flexible is the new restaurant design?
You know what I've learned about Arby's? They will work with you when you want to put a location anywhere. They will help you figure out a way to make it work. That's the thing. We used to have 2,000 square feet if you wanted to do an inline. Now, we can do a 1,500-square-foot restaurant, which makes it easier to continue to grow our Brand. Like I said, they work with you. They've got a great design team. They've got a great construction team. They're there for franchisees of all experience levels, whether it be somebody that's new in the system or whether it's somebody that's been around a long time.
What do you hope to accomplish over the next 10 years?
I want to have 200 units, so that's what our goal is: to be a 200-store franchisee.
How do you feel about the overall support you receive from Arby's headquarters in Atlanta?
When you look at it, they're the Brand but they're there to help. It's nice to know that they're also the largest franchisee of Arby's. They understand what we, the franchisees, go through every day. I think a lot of brands might have a few company-owned restaurants and the rest of the system is franchisees. Arby's is totally different because they're also the largest franchisee of the Arby's brand. It's a unique opportunity.
ARG offers a really full tool box. If you've got a construction or design issue, they're there to help. If you've got an idea for product innovation, they're willing to listen.
What's your favorite thing on the menu?
The very first time I came into Arby's, I was 19 and I had a coupon for a Beef 'n Cheddar. Every time I eat a Beef 'n Cheddar, it takes me back to the first time I ever walked in an Arby's. It's one of my favorites.
Arby's recently added sliders to the menu. About 30 million sold the first month they were on the menu, and they hit a 19-year-old's price point without the need for a coupon. Do you like having a less expensive option on the menu, or do you worry it will steal sales from more expensive sandwiches?
It's definitely, definitely a transaction builder. I also think the slider line is our fail-safe. Today, the economy is moving in the right direction. People have jobs if they want jobs. But imagine what happens when gas prices jump up to $4 a gallon again, or if unemployment jumps all of a sudden and people can only eat things off value menus. Well, we have a value strategy that we can put out there, that we can promote and use to drive  transactions without needing to discount the rest of our menu.
If you had to sum up the Arby's franchise opportunity in one word, what would you say?
Potential. I think Arby's is the best franchise opportunity out there today.
Are you a franchisee of any other restaurant brands?
No. My question would be why would I? A couple of guys I've spoken with, who do have another brand, have all been saying things like, "Well, yeah, I started looking at this other one but, honestly, I'm not doing anything with it right now because we're putting all our energy into Arby's."
Want to become an Arby's franchisee?
If you are interested in becoming an Arby's franchisee, fill out the form at top left to download information, and we'll be in touch. Hundreds of people a week ask about joining our Brand. To put yourself at the top of the list of folks we call, fill out our franchise application here.