Arby's Menu Development: We have another hit
Arby's guests exalt the Loaded Italian, earn it permanent home on menu
Arby's strong same-store sales growth has been driven by a number of factors — a successful restaurant redesign, a reinvigorated franchise culture, strong marketing and branding — but the most important element for any restaurant is what happens when customers dig into their meal.
Arby's guests have been licking their lips and singing our praises. The latest example is our Loaded Italian sandwich, which underscores our "We Have the Meats" campaign by bringing together pepperoni, salami, pit-smoked ham, provolone cheese, banana peppers, red wine vinaigrette, red onions, tomatoes, lettuce and garlic aioli on a toasted Italian roll.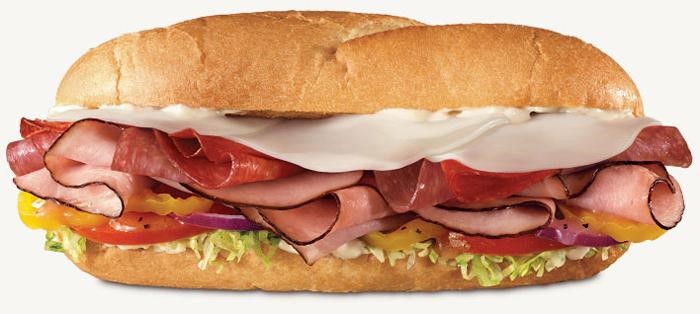 If you need to pause here so you can run out and grab one for lunch, we understand. We'll be here when you get back.
What Arby's guests are saying
Okay, have you bitten into the sandwich yet? If so, you already understand what these Arby's guests are talking about:
@Arbys got it right with their loaded Italian sub, flavorific! #arbys #foodie #foodtweet

— Jaimee (@princessjmee) March 20, 2016
@Arbys heaven in a sandwich..loaded Italian! pic.twitter.com/hV2py0Pvmk

— Rhonda (@brbrparkfamily) February 25, 2016
oh my gosh! That @Arbys Loaded Italian sandwich is the bomb diggity!

— Mari (@mari45678) March 8, 2016
That new loaded Italian Sammich from @Arbys is the truth! #WeHaveTheMeats

— Shane Call (@chaINsaw812) March 24, 2016
The Loaded Italian is a fantastic sandwich. Our Product Development & Innovation team created it as a limited-time offer, but the popularity of the sandwich has earned it a permanent spot on our menu. The same thing happened with the Smokehouse Brisket sandwich, another hugely successful promotion that earned a permanent home on our menu. Most recently, our Arby's Sliders, which also started out as an LTO, were such a huge hit that they almost immediately earned a permanent place on the Arby's menu. We launched Sliders in late August 2015, and by the end of that September, we'd sold 29 million of them. We've now sold well over 130 million of the big-on-flavor, easy-on-the-wallet mini-sandwiches, which is helping to drive increased guest counts and introducing more guests to Arby's.
Here's the great thing about our product development process, and the reason it's so powerful for franchisees: Sandwiches come in all shapes, sizes and configurations. There's a near-infinite number of flavor combinations you can use to keep guests excited about your menu. By researching consumer trends and carefully analyzing ingredient costs and pricing, Arby's has been able to develop a deep bench of market-tested menu items that we can roll out as LTO's to attract new guests and turn them into Arby's fans.
Want to become an Arby's franchisee?
For information about becoming a franchisee, fill out a form to download our free executive report. Arby's gets hundreds of inquiries a week. To skip to the front of the line, click here to fill out our non-binding franchise application.