Q&A with CEO of U.S. Beef Corporation, Inc., the largest Arby's franchisee
U.S. Beef is one of the world's largest franchisees, with more than 330 Arby's restaurants.
John Davis' first job at Arby's was picking up litter in the parking lot. He was age 6. His dad, Bob Davis, was the manager for the first Arby's in Tulsa, Oklahoma, which opened in 1969. Bob Davis eventually became the franchisee of that location, and used the profits to open another Arby's, then another, then another. Today, the company Bob started, U.S. Beef Corp., owns more than 330 Arby's throughout the United States and plans to top 400 locations by 2022.
John Davis is now CEO of the family business, which is the largest Arby's franchisee and one of the largest franchisee organizations in the world. He recently spoke with us about Arby's, how the Brand has evolved over five decades, and why U.S. Beef has ramped up its expansion plans.
As I understand it, it's still a family business even though the company is a lot bigger today. Talk a little bit about where you are today.
We have more than 330 restaurants in eight states. Over the years, our growth has been in Oklahoma, Arkansas, Kansas, Missouri, Illinois and eventually Colorado, Idaho and Wyoming. Some of that has been through acquisition of other franchise groups that have been in the Arby's system for a long time, but the majority of it — around 60-70% of our growth — has been organic.
I'm the second generation of our family to run the business, and we have a third generation in management at U.S. Beef as well (Bo Davis, John's nephew, is COO). They're doing a much better job at it than I ever have. Hopefully, there'll be a fourth generation.
You've been part of this brand for nearly 50 years. Do you feel like the brand is still relevant?
Absolutely. The original Arby's sign said "Arby's Roast Beef Sandwich is Delicious®." Many people still have that sign up today. I still have a couple of them. I think the key word is "delicious." Now why is that important? Well, today we call ourselves Meat Crafters and our guiding vision is to offer guests a Deli-Inspired Delicious experience. That word, "delicious," has been there from the very beginning. We're all about the meats. That's where Arby's has been since day one. We set ourselves apart from the QSR competition by offering better quality. At the time I started, a roast beef sandwich was 69 cents and a McDonald's hamburger was 15 cents. If you wanted cheese, it was 20 cents. We were set apart then just like we're set apart today.
Arby's describes itself as Fast Crafted® rather than fast food or fast casual. What do you think about the brand positioning?
Arby's is not your typical fast-food joint. We never have been. We've always been a cut above. The new Inspire restaurant design and the new marketing efforts set us apart because of the quality and speed of service we offer. Where else can you get a Reuben of this quality through a drive-thru? Nowhere — only at Arby's. The quality of our food sets us apart from other QSRs and is more what people have come to expect from a fast casual restaurant. Our new restaurant design has a warm and inviting interior that also sets us apart from other QSRs. At the same time, fast casuals can't match our speed of service and convenience.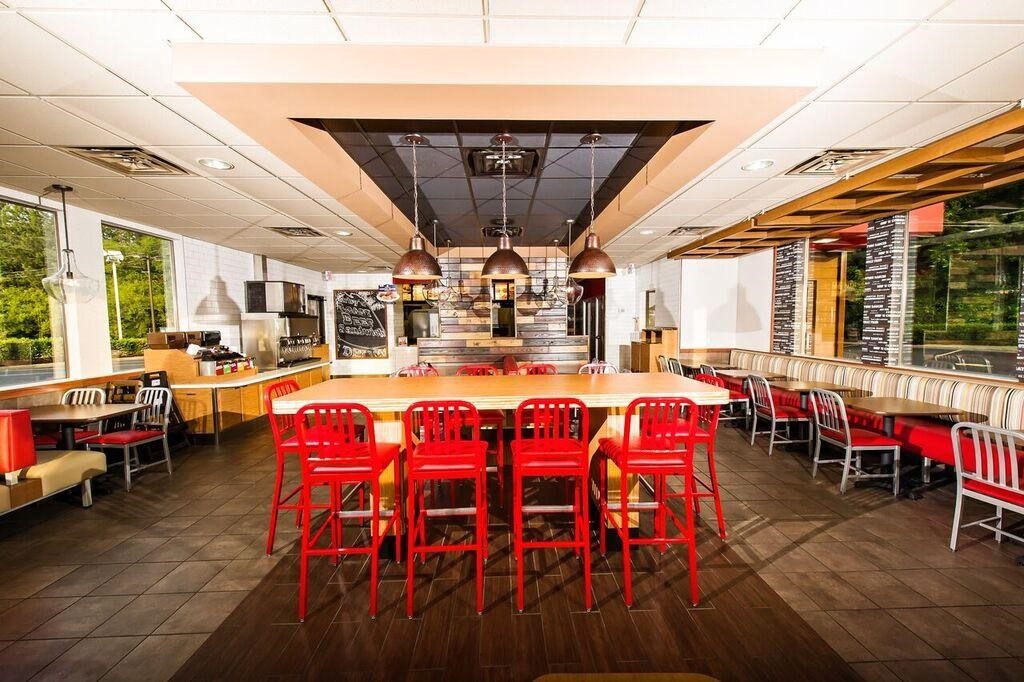 How have your new restaurants performed?
Our new restaurant volume has exceeded expectations, and we have high expectations because the cost of opening a restaurant today is so much higher than it was five or ten years ago. The Inspire image definitely gives us an edge in that it's new, it's unique and it's set apart from the rest of the QSR.
Our guests tell us that it's more comfortable than the typical QSR. I think we're exceeding expectations because it's new and it's inviting and guests are talking about it. We're happy with our new restaurant results.
I think it all comes down to the return on investment. With Arby's, the return on investment is there. Yes, the cost of land is high, but building costs have pretty much maintained. The reason why U.S. Beef is bullish on Arby's is because of the potential. We think that the sales potential and the profit potential of the Brand is better than it ever has been. That's why we're investing in the Brand.
Now, we never stopped growing since day one. My dad took the profits from his first restaurant and invested it in the next one, and then the next one. Over five decades, U.S. Beef has always been organically growing. Now, you would think that we would want to diversify into other brands, but we're bullish on Arby's in that we've always seen potential there. We've had our ups and downs just like any longtime Brand, but we believe the upside on Arby's today is better than it ever has been.
How has the flexibility of the new Inspire restaurant design impacted your plans?
It opens up more opportunities to expand the Brand by fitting into urban, rural and non-traditional footprints. The Development team at Arby's has seen, with the cost of land and the cost of development, that it's important for franchisees to have alternative formats that provide opportunities by taking advantage of different venues.
The inline concept, and end-cap with drive-thru are great concepts, and I see a lot of promise with the urban inline restaurant design, and the potential of bringing Arby's into large markets that are underdeveloped —Houston, New York City, Seattle — large cities all across the nation where there's a lot of potential for much more brand penetration.
Arby's is generating a level of conversational buzz that didn't exist five years ago. What happened?
Well, I think the whole Brand relaunch that we went through in 2014 really gave us a boost. It's like a reboot. You have this traditional Brand that a lot of people might have forgotten about, and I think the Brand relaunch was critical for opening the eyes of new guests and also lapsed guests who hadn't thought about Arby's in a while.
I think that all the new sandwiches that we've introduced have played a role. The menu has expanded in a great way. Arby's product innovation team has done an outstanding job, and they have really brought a disciplined approach to testing and researching what the guest really craves. They're identifying what really excites guests, and what is going to motivate them to come to Arby's more often.
Our new advertising — built around the phrase "We Have the Meats®" — has been a hit. I can't tell you how many friends have come up to me and told me, "Hey, your new ad campaign is great." People haven't talked about our ads in years.
How would you describe the franchisee-franchisor relationship?
The Arby's franchisee-franchisor relationship is very unique to the industry. Arby's has grown by focusing on the franchisee. For a while, the Brand got away from realizing how important the franchisee is to the health of the Brand, but with Arby's current leadership team, the relationship has been fantastic. I think CEO Paul Brown has definitely been a leader in recognizing that if we want to get this Brand to 5,000 restaurants, it's going to be the franchisees who grow it. I think support for the franchisees is better than it ever has been.
How focused is Arby's on unit-level economics?
ARG is very concerned about the profitability of each restaurant. For instance, with product development, it's not just a matter of identifying a new menu item that guests will love, it's also having the discipline to make sure the item can be produced in each restaurant without slowing down service times, and that food costs and labor costs are properly accounted for so that the new menu item is profitable. They take in the whole ball of wax. They don't toss out ideas for sandwiches that have 45% food costs. It's a tough business to be in, and we've got to work hard for every dime that comes in.
What's your favorite thing on the menu?
Right now, I'd say my favorite is the Smokehouse Brisket. It's just a great sandwich. Now, my old standby is a Roast Beef Mid sandwich with Potato Cakes. All my friends at home nicknamed me "Potato Cakes" because I like them so much.
Become an Arby's franchisee
For information about becoming a franchisee, fill out a form to download our free executive report. Arby's gets hundreds of inquiries a week. To skip to the front of the line, click here to fill out our non-binding franchise application.