Leadership Team
Leadership team has reinvigorated the brand by improving corporate communication and building trust with franchisees
Rick Bentley, who has been an Arby's franchisee for more than 30 years, has high praise for the Arby's leadership team — starting from the top.
CEO Paul Brown is a "super individual — very unassuming, very focused, very professional." Arby's new brand position "isn't about going out and trying to be somebody else. He developed a new brand purpose, Fast Crafted™ market positioning and the 'We Have the Meats®' campaign, along with bringing on a superb leadership team."
He also listens to franchisees and respects their experience and know-how, Rick says.
"I think what's working with us, with our franchisee relationship, is we take the time to listen, we truly do care about their opinion, we'd understand their role in the business and they understand our role in the business, and we respect each other's roles and look for the best ideas regardless of where they come from," Brown says. "There's no sense of, 'It was my idea, therefore it was a good thing,' or 'It was their idea, therefore it was a bad thing.' I think that mutually respectful relationships is really what's helping us win."
Get Our Free Executive Summary In Your Inbox
A leadership team that gets it
Paul Brown, Chief Executive Officer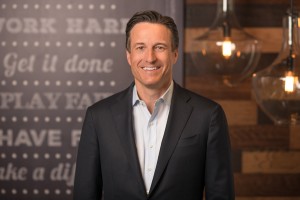 Paul Brown is Chief Executive Officer of Atlanta-based Arby's Restaurant Group, Inc. (ARG). ARG is a leading global Fast Crafted™ restaurant company operating and franchising more than 3,300 Arby's restaurants worldwide.
Joining the company in May 2013, Brown has led the Brand's revitalization efforts, at the heart of which include boosting the company's culture and instilling a sense of "Serve, Refresh and Delight." Additionally, he has spurred a rebooted service culture, new restaurant designs and formats, new franchise financing options and the launch of the new "Meatcraft™" marketing campaign and "Deli-inspired Delicious" brand positioning.
Prior to joining Arby's, Brown served as President of Brands and Commercial Services for Hilton Worldwide. The global hospitality company is comprised of ten brands including Waldorf Astoria Hotels & Resorts, DoubleTree by Hilton and Embassy Suites Hotels. Brown was the company's global leader for brand management, product standards, marketing, sales, pricing, e-Commerce, loyalty programs, franchise relations and information technology.
Brown also previously served with Expedia, Inc., the world's leading online travel company, as President of Expedia.com and Expedia's Partner Services Group. Prior to Expedia, Brown was a partner at McKinsey & Company. Based in London, he was a leader of the firm's global travel and hospitality practice and served clients across the travel, hospitality and retail sectors. Brown has worked with InterContinental Hotels Group as Senior Vice President of Global Brand Services and was responsible for global sales, reservations, the Priority Club loyalty program, e-Commerce and purchasing. He was also a Manager for The Boston Consulting Group in the firm's Chicago and Atlanta offices.
Brown is an alumnus of The Georgia Institute of Technology where he received his Bachelors of Science degree in management. Later, Brown graduated from Northwestern University with an MBA from the Kellogg School of Management and a master of engineering management from the McCormick School of Engineering and Applied Sciences.
John Bowie, Chief Operating Officer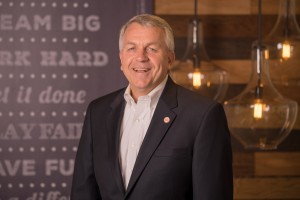 Joining the company in May 2013, John Bowie was hired as Senior Vice President of Operations for the Northeast Region, bringing more than 20 years of food industry experience to the table. He was promoted in Chief Operating Officer in March 2015.
Bowie was previously President of U.S. Operations for Church's Chicken where he was responsible for all aspects of Church's domestic business. Reporting to the CEO (Private Equity Operating Partner), Bowie served as the number two enterprise officer with responsibility for $1.2B in revenue, $50M in EBITDA and 1,300 restaurants (275 company-owned, 1,025 franchise). He led a team of 125-plus restaurant professionals in several business functions including: Operations, Training, Finance, Marketing, Human Resources, Franchising, Development and Quality Assurance.
Prior to his role at Church's Chicken, Bowie served as Senior Vice President and Chief Operations Officer of Friendly's Ice Cream Corporation. In addition, Bowie has held senior operations and marketing roles, both domestically and internationally, with Wendy's International, Inc. He is an alumnus of the University of Notre Dame and earned an MBA degree from The Fuqua School of Business at Duke University.
Rob Lynch, Brand President and Chief Marketing Officer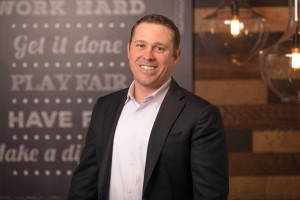 Rob Lynch serves as the Brand President and Chief Marketing Officer for Arby's Restaurant Group, Inc. Lynch leads all R&D, food innovation, brand marketing and positioning, advertising creation, and media planning for the Arby's brand.
Since joining Arby's in 2013, Rob has been a key contributor to the Arby's turnaround. Rob and his team have repositioned the brand as the Fast Crafted™ option in the restaurant industry by delivering high-quality, innovative food that you would expect to find in a fast casual restaurant, coupled with the value and convenience you would expect at QSR. "We Have the Meats®" is how that positioning is brought to life.
Rob has a long history of building brands and delivering business results. Prior to Arby's, Rob was at the forefront of some of the top marketed brands and companies in the country, including Procter & Gamble, The HJ Heinz Company, and, most recently, Taco Bell, where he served as the Vice President of Brand Marketing and was part of the Marketing Team that was recognized as "2013 Marketer of the Year" by Ad Age Magazine.
David Pipes, Chief Financial Officer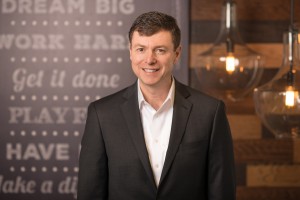 David Pipes became the Chief Financial Officer of Arby's Restaurant Group, Inc. in 2011 concurrent with its acquisition by Roark Capital Group. In his current role, Pipes leads all accounting and reporting, tax, financial planning and analysis, treasury, information technology, revenue management and internal audit functions. Pipes joined the company in 2003 through Arby's franchisee RTM, bringing with him over 20 years of finance and accounting experience, much of it in the restaurant industry.
Pipes was instrumental in the acquisition of RTM by Arby's Restaurant Group and, in 2005, he became the Chief Accounting Officer for Arby's Restaurant Group, Inc. Prior to joining Arby's, Pipes was USA Controller for Yum! Brands, Inc. Pipes was with PepsiCo immediately prior to Yum! and began his career in public accounting at Coopers & Lybrand.
Pipes received his BBA in Accounting from the University of Texas at Arlington. In 2013, he was awarded Atlanta Business Chronicle's CFO of the Year award in the Large Private Company category. He also serves on the board of ARCOP, Arby's supply chain cooperative, and is active in several philanthropic activities, including his church and Arby's Foundation national charity Share Our Strength's No Kid Hungry® campaign.
Melissa Strait, Chief People Officer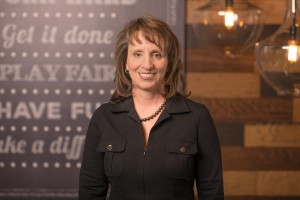 Melissa Strait serves as the Chief People Officer for Arby's Restaurant Group, Inc. (ARG). Originally from Muskegon, MI, Strait graduated from Hope College with a Bachelor's of Arts degree in psychology. She began her 30-year tenure with Arby's behind the counter of a restaurant in 1984. Strait learned leadership and guest service skills at the frontline of Arby's operations in order to work her way through college. In 1995, she became director of training and then her career quickly progressed. Strait was named Vice President of Training and Development in 2000.
Shortly thereafter, Strait was named Vice President of Human Resources, Training and Development and later became the Senior Vice President of Human Resources and Leadership Development. In October 2014, she was promoted to Chief People Officer reporting to Paul Brown, Chief Executive Officer.
In this role Strait is responsible for leading the strategy, development and execution of human resources and key organizational effectiveness and talent management programs across the company.
Greg Vojnovic, Chief Development Officer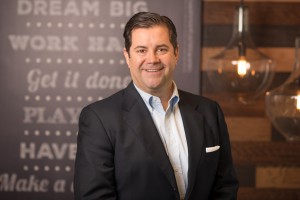 Greg Vojnovic is responsible for franchisee recruitment and sales, franchise and company development, real estate, construction, design and equipment.
Prior to joining ARG, Vojnovic held the position of Chief Development Officer at Popeyes® Louisiana Kitchen, where he was responsible for franchise and company development, real estate, construction, design, equipment and franchisee recruitment activities. Before joining Popeyes, Vojnovic held leadership positions in restaurant development as Vice President of Development at Huddle House and Director of Franchise Development at MaggieMoo's. Prior to MaggieMoo's, Vojnovic led the Atlanta-based Bridgetown Grill chain, a Caribbean-themed concept that received Hot Concept of the Year recognition from Restaurants & Institutions and Chain Leader and more than 40 "Best of Atlanta" awards. Vojnovic also held development positions at Denny's and previously at Arby's for more than five years in the 1990's.
Vojnovic is an alumnus of Cornell University where he received a Bachelor of Science degree in hotel administration from the Statler School of Hotel Administration. Vojnovic is an active member of the International Franchise Association (IFA) and a board member of the VetFran program. Additionally, he is a regular lecturer on franchising and development for the IFA Development Training series, contributes articles and columns to trade journals, frequently participates as an industry expert on conference panels, and early in his career was awarded a Gold Medal in the US Chef's Open.
Nils Okeson, General Counsel and Chief Administrative Officer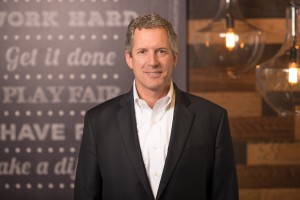 Nils Okeson is responsible for the legal, corporate secretary, risk management, lease management, franchise services, mergers and acquisitions, and administrative services functions at Arby's.
Okeson joined Arby's as General Counsel in 2005 and became General Counsel for Arby's parent corporation, Triarc Companies in 2007. In these roles, he helped lead the organization through a number of significant M&A and financing transactions as Triarc evolved into a pure play restaurant company eventually combining with Wendy's International, Inc. to form Wendy's/Arby's Group in 2008. At Wendy's/Arby's Group, Okeson served as General Counsel of the parent company and each of the Arby's and Wendy's operating companies. Following Roark Capital Group's acquisition of Arby's in 2011, Okeson remained with Arby's as General Counsel while assuming additional senior management responsibilities.
Before joining Arby's, Okeson was a partner at Alston & Bird LLP in Atlanta, Georgia where he spent 15 years specializing in corporate governance, mergers and acquisitions, securities regulation and corporate finance. Okeson joined Alston & Bird in 1990 after graduating from the University of Virginia School of Law. He also holds a B.A. in Economics (minor in Mathematics), with Distinction, from the University of Virginia.
Darla Morse, Chief Information Officer
Darla Morse is Chief Information Officer of Atlanta-based Arby's Restaurant Group, Inc. (ARG). ARG is a leading global restaurant company operating and franchising more than 3,300 Arby's restaurants worldwide.
Joining the company in April 2016, Morse reports directly to Paul Brown, Chief Executive Officer, Arby's Restaurant Group, Inc. Morse will guide the Brand's technology initiatives going forward with the objective of continuing to enhance the restaurant experience for Arby's guests while driving operational efficiencies for franchisees.
Morse joined Arby's from SeaWorld where as Chief Information Officer she led the technology teams supporting all 12 SeaWorld parks and corporate headquarters. During her tenure at SeaWorld, Morse drove a number of industry leading innovations including an enterprise mobile application for managing park wait times, providing guest information and other key functionalities including food pre-order capability and mobile wallet for one-touch purchasing.
Morse has more than 22 years of technology experience with previous positions in a variety of roles for Walt Disney World including being part of the initial team that developed Disney's wristband, allowing the company to provide personalized offers to park and hotel guests, shift demand within the park and use mobile technology to increase revenue within the park.
Morse obtained a Bachelor's Degree in computer science from Florida Southern and an MBA degree in Management Information Systems from Webster University.
Christopher Fuller, Senior Vice President, Communications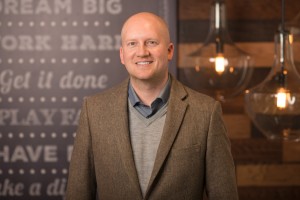 With more than 15 years of experience representing several of the top brands and influencers in the world, Chris Fuller is no stranger to marrying new and emerging techniques to solid, time-tested PR craft. Fuller's career launched on Capitol Hill as Press Secretary to U.S. Representative Mac Thornberry of Texas. He was responsible for revolutionizing the Congressman's message for a new digital-savvy constituency.
Additionally, after more than eight years leading the International PR and Corporate Social Responsibility efforts for Yum! Brands, Fuller is now Vice President of Brand and Corporate Communications for Arby's Restaurant Group, Inc. where he is working to reignite culture among Arby's team members and re-engage brand passion among guests.
Fuller was named the 2010 "PR Professional of the Year" by PR News magazine for his efforts to re-set value perceptions of the Pizza Hut brand among its core consumer.