What do Arby's franchisees say? Q&A with Rick Bentley
Rick Bentley has been an Arby's franchisee for 30 years. Here's why he's more excited than ever before.
In his 30 years as an Arby's franchisee, Rick Bentley has never been more excited about the Arby's brand than he is today. Bentley, who owns 25 Arby's restaurants in Nebraska, Wyoming, South Dakota and Montana, says that since Paul Brown took over as CEO in 2013, the Brand has been re-energized. Communications between the franchisor and franchisees are stronger than ever, and the level of menu and operational innovation is unlike anything he has ever seen during his time in the Arby's system.
"The last three years have just been fantastic," he says. "Arby's vision and the direction of the Brand by bringing in the right people on product innovation and thinking outside the box, has just been phenomenal. Our franchisor has gone above and beyond in providing us with the opportunity to succeed. All we have to do is execute; they're bringing us the right products."
Bentley recently shared his experience with us as a way to help potential franchisees better understand the Arby's brand. This is what he shared:
What were you doing before you became an Arby's franchisee?
I was a regional sales manager for a Center Pivot and Farm Equipment Manufacturing company. I was with that company for about 12.5 years in different roles throughout the company.
What prompted you to decide that you wanted to get into the restaurant business?
The company I was working for was having some financial issues, so I started investigating potential opportunities. A friend of mine indicated that he was going to sell part of an Arby's franchise in Scottsbluff, Nebraska. He showed me the restaurant P&L's and when I started reviewing them, I noticed they were very favorable. I ended up buying a half-ownership stake of the Arby's restaurant, and subsequently bought out my initial partner about three years later.
Tell us about your current partnership.
Carter Miller and I met over the holidays one year after his family had just sold their business, and he was looking for a business entity to get into which would allow him to stay within the area. We've been business partners now for about 27 years. We're extreme opposites, and I think that's why it's worked. He handles the accounting side — payroll, accounts receivable, accounts payable, taxes — and I handle operations and construction. Carter is a great partner. He's actually the one who suggested we hire my son, Jon Bentley, to help with operations as we grew. Jon has been with us now for 11 years and is now our Director of Operations.
You have high praise for the current Arby's leadership team. What's the new genius that they're bringing to the table?
Paul Brown is a super individual — very unassuming, very focused, very professional. He hit it on the head when he said, "You know, this is about a Brand and being who we are. This isn't about going out and trying to be somebody else." So many times in the past, we've had a "me too" mindset, following the lead of other brands.
Paul came in and said we are defined by our meats, and by a deli-inspired approach. And he's hired the right chefs, the right people in product development, and we've taken on the monster — the price of proteins — and made it a win-win for everybody.
The new restaurant design creates an amazing ambiance for Arby's guests. The new production line allows us to be more efficient in a smaller footprint. The new menu and the new advertising — it's all been very, very innovative, creative and bold.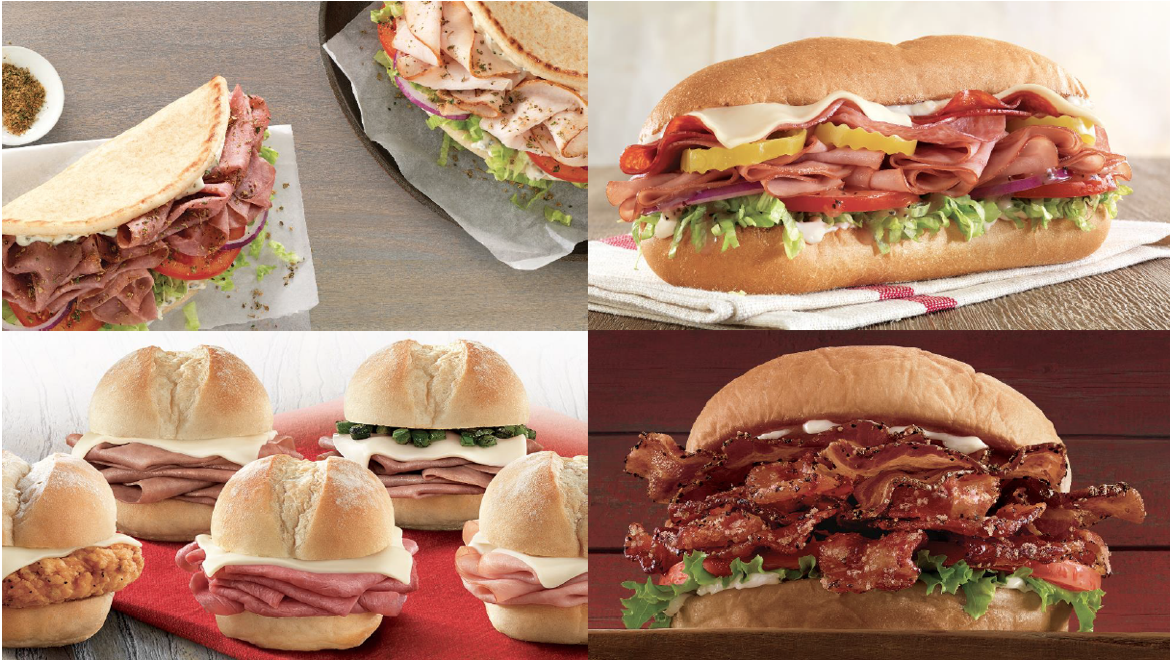 I believe that the regional vice presidents and the business consultants that report to them are all very focused on what is important for the franchisee and how to help us grow. There's great back-and-forth communication. The training department is phenomenal. I can tell you that our business consultant is just like a member our family. He's such a positive influence.
Product innovation would probably be the second way the franchisor help us a lot. In the last few years, Arby's has done a phenomenal job of developing products that our guests want and that we can execute on.
Third, is ARG's willingness and ability to work with us as franchisees and listen to us. It is a great relationship. Their willingness to listen to and address our concerns in a positive manner and move us forward is just very good.
So, what's your favorite product innovation?
I love the Smokehouse Brisket and all the varieties they've brought to the market with it – with the jalapenos and the different sauces. The Smokehouse Brisket definitely is the No. 1 winner for me. I love it.
You opened a restaurant that uses Arby's "Inspire" design just in time for the 2015 Sturgis motorcycle rally. How did that go?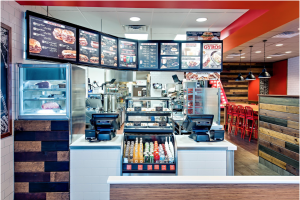 It was a mad rush but everything came together well as far as being ready for business. With our excellent management team and help from other restaurants in the area, Sturgis went very, very well. Our business consultant also came in for several days to help out. The restaurant was one of the first new Arby's restaurants to use the new Delight production line, so he was making sure we understood how the kitchen and counter space were arranged differently. It went very, very well.
It has basically streamlined how sandwiches are put together and how guests are served. It's shaped like an "L" and you order on the small side of the "L." As you go down the line, you can see part of what the crew is doing and then you receive your order on the other end. So the guest gets to watch their sandwich being made as they head toward the counter to pick up their order.
On the production side of the counter, they have eliminated some work stations and brought in some new equipment that makes the kitchen and operations more efficient. For instance, we've added a new "cook-and-hold" oven that cooks roast beef to the perfect temperature and then holds it at that temperature until it's ready to be served. Previously, you had to do a lot more projections about the amount of roast beef you were likely to need at any given time, then keep a lot of records to ensure you were cooking on a staggered timeframe to ensure there was always enough roast beef ready when guests were likely to be coming in. It was very time consuming. Since the cook-and-hold oven allows us to keep everything at the right temperature, you don't need as much manpower to keep track of it on a constant basis throughout the day.
We also now have new ovens that have a smaller footprint and are less expensive, which helps with capital expenditures. The way the fryers are set up now eliminates some footsteps and congestion in the kitchen area. Even though the space is smaller, we're able to handle high volume.
How are sales at the restaurant?
Oh, the sales are going strong. We thought that after summer and the Sturgis rally that sales would drop off, but they haven't.
How have guests responded to the new look of the restaurant?
The new Inspire exterior and interior design with the Delight production line is beautiful. Guests are very, very pleased with what they see when they walk in. It's a very upscale look, and we have received lots and lots of compliments in regards to the wood planking, the pendant lights and the whole ambiance.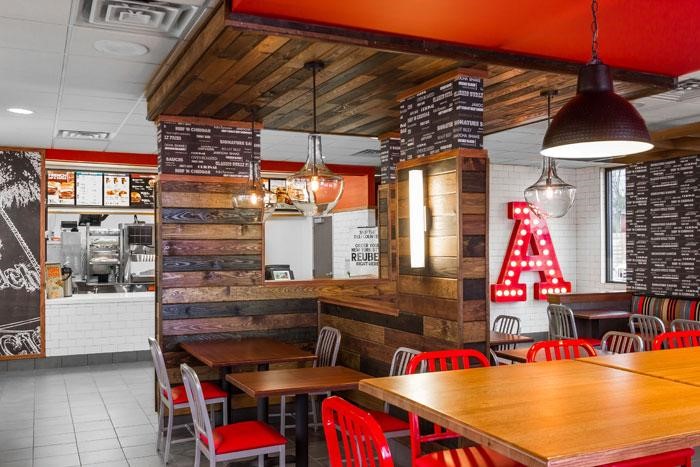 The employees have been very complimentary. I mean, after our first remodel, we literally had some of our competitors' employees stop in and see what our restaurant looked like inside and ask if they could get a job with us instead. We ended up with four new employees the week after we opened! Our crew loves it. They've taken a lot of pride in it.
I'm curious. It's 2,000 square feet, which is a fair bit smaller than a traditional free-standing Arby's, and you share space with a gas station. Are you able to do similar volume to what you were doing in some of your bigger locations?
Yes, we are, absolutely. Our seating is at 49, which was the breaking point between having to install a sprinkler system. We run about 68% drive-through because we're right off the interstate, with excellent access from the off-ramp and the ability to get back on the interstate without any traffic whatsoever.
The Inspire restaurant model is designed to be flexible, so it can be adapted to a lot of different locations. Do you feel like the flexibility is going to help you take advantage of more development opportunities?
Oh, it definitely will. In some markets, real estate is quite expensive and the impact of reducing square footage is huge. The flexibility and the ability to use a smaller footprint allows us to create a new free-standing 2,000-square-foot restaurant that will work well on a small lot. Also, we can adapt the design at 2,000 square feet to take advantage of strip mall end-cap locations or convenience store locations. The reduced footprint of the new Delight line has allowed us to maximize efficiency and reduce our capital input significantly.
What is the key to success?
I think it's about having great locations and a great product line from Arby's. In the 30 years I've been in the business, this is the best product lineup and marketing I've seen — the "We Have the Meats" ad campaign and new options like Smokehouse Brisket and Sliders. Our guests love our products. There's great variety on the menu and a variety of price points.
What do you enjoy about being an Arby's franchisee?
I have to start first with the team that we've assembled. A lot of those people have worked for us for 20-25 years and have grown to become district managers, managers of restaurants, etc. Giving the people the opportunity to prove who they are and what they can do is probably the most gratifying.
And I enjoy our guests — the personal relationships that we develop with them, knowing their names and what they're going to order when they walk in the door. Our guests are what's made this really a fun, fun business.
And then the relationships that we have developed with the franchisor. We currently have some of the best people that we've ever had as far as support for the franchisees. They're here if we need them for training, they're here on new restaurant openings, they're here for operational coaching and guidance.
Knowing what you know now, if you were to start over, would you become an Arby's franchisee?
Yes, without a doubt. It's been great for my family and for me financially and for many people that work for us. It's just been a success story. If tomorrow were my first day, I would definitely become an Arby's franchisee — especially with the leadership in place. It's a win-win growth situation that we believe will only get better.
What are your plans for the future for your business?
Growth is definitely within our vision. We're in a very rural area. Most of our markets are 10,000 people and under, and we do well. Our average sales volume is strong. We have the opportunity to go into the front range of the Rockies now (from just north of Denver to Cheyenne, Wyoming). I think we have a lot of potential growth on the front range. It's exciting.
We have some great neighboring franchisees. There's great people within the Arby's brand — I mean just good people. It has been a very positive experience.
How to become an Arby's franchisee
If you are interested in becoming an Arby's franchisee, fill out the form at top right to download information about our franchise opportunity, and we'll be in touch. To put yourself at the top of the list of folks we call, fill out our franchise application here.