Arby's restaurant design: As smart as it is inviting
Restaurant design repositions Brand, uses value engineering and modular elements to allow flexible development options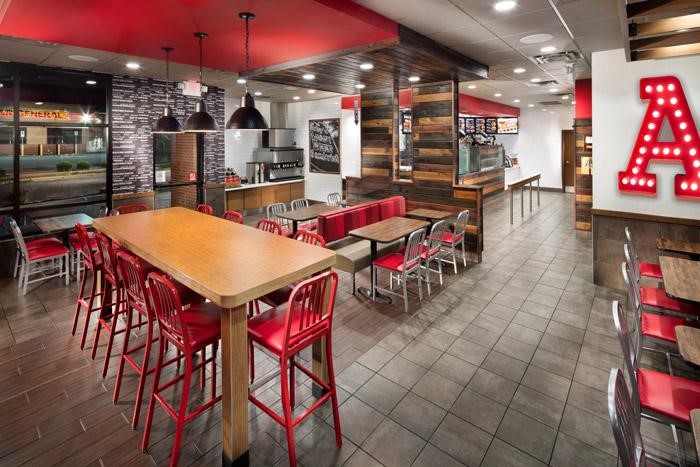 Arby's is in the midst of a streak of 22 consecutive quarters of sales growth at our restaurants. We have repositioned our Brand as Fast Crafted®, a step above typical QSR. We have reinvested in our relationships with franchisees, listening and crafting strategies with plenty of input and feedback. We have also built a culture of empowerment that has allowed new ideas to flow and flourish throughout our organization.
Our new restaurant design is a perfect example of these shifts, and what's possible when Brand, culture and franchisee-franchisor relationships are all in alignment. The Arby's Inspire restaurant design debuted in 2014, and hundreds of restaurants nationwide have remodeled to use the design that better matches our new Brand identity.
The result? Revitalized restaurants have experienced post-remodel SSS increases of approximately 15%, in some cases upwards of 20%.
Arby's Inspire design features wood tones, white brick, upgraded lighting, upgraded landscaping, subway tiles, stainless steel finishes and chalkboard graphics. These design changes combine to create a new guest experience that fits Arby's Fast Crafted® identity, which promises fast casual quality with the convenience of fast food.
Restaurant design engineered for success
The Inspire restaurant design delivers much more than a beautiful new look for Arby's. It is also designed to increase restaurant efficiency, reduce development costs, and increase the variety of options for development:
Efficiency. One of the Inspire design's innovations is the Delight line — a new customer service counter/production line that gets guests through lines more quickly, gives them an opportunity to see our quality ingredients and lets them see their food being made. On the other side of the counter, equipment is laid out in a way that allows team members to spend more time serving guests and less time traversing the kitchen.
Increased development options. The Delight line design reduced the square footage needed for the production area by 20%, which has made it easier to develop an Arby's with a smaller footprint. Instead of needing a 3,000-square-foot building for a restaurant, Arby's franchisees are now able to invest in 2,000-square-foot buildings that work on smaller lots; endcap locations; and even urban inline locations such as our restaurant in Manhattan.
Flexible design. The potential for smaller square footages is far from the only benefit for franchisees. The Inspire design rejects a one-size-fits-all approach to development. Instead, franchisees choose from a package of modular design elements that combine to create a unified look and feel for the Brand in a variety of spaces. We provide franchisees an online platform with several templates for restaurant layouts, and work with franchisees to refine plans.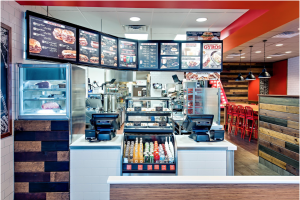 "You can go in and find something very close to what you are looking to wanting to develop, do your own tentative layouts and then go back at them and say, 'Hey, I need some help here.' They're there to do it for you," says Rick Bentley, head of Bentley-Miller Corp., which owns restaurants in Montana, Nebraska, South Dakota, and Wyoming.
Become an Arby's franchisee
To learn more about what's driving Arby's sales growth, visit our milestones page to view the events that have provided momentum to the Brand. For an in-depth look into the opportunity, fill out a form to download the Arby's Executive Summary and to begin a conversation.